Dahlias: Endless Fascination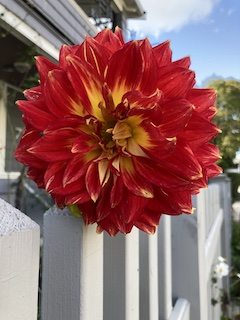 Dahlias are incredibly varied, have rich geometry
and vivid colors, and bloom until the first frost – making them a
focal point for any garden with full sun. In this talk, we'll cover
the discovery and cultivation of dahlias, and how to grow and
propagate them via cutting, seed, and overwintering tubers. We'll
learn about the different types of dahlias, and resources for
obtaining them and learning more. The talk concludes with some
dahlia-inspired artwork.
Peter Niels Heller loves gardening at his home in
Somerville and at the Tufts Community Garden, where he is one of the
coordinators. Every year, the dividing line between dahlias and
tomatoes in his plot moves a little further into the tomato territory.
Peter has lived in Davis Square for a long time, helped raise kids,
and has worked in professions from electronics engineer to architect.
All Somerville Garden Club meetings are free and open to the public. 7-9pm. If you are interested in attending our virtual meeting, but have not received the meeting link via email, or are not a SGC member, you can email info@somervillegardenclub.org for the link.