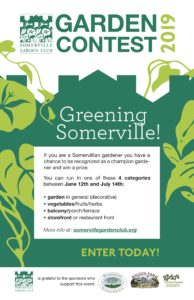 ENTRY SUBMISSIONS ARE CLOSED! Thanks to all who submitted.
Is your garden in Somerville?
Is your garden festooned with fragrant climbers? An exuberance of spectacular blooms? A blaze of color? A nest of native plants and wildlife? A peaceful secluded haven from the bustle of city life? A cool shady nook? Prolific pots of veggies?
If you are one of the many gardeners in our Somerville neighborhoods whose creativity, resourcefulness, and hard work beautify our City and brighten the lives of residents with greenery and flowers, please enter our contest. We especially welcome entries from people who are not currently garden club members.
CATEGORIES
Gardens will be judged in four categories:
GARDEN: Small, medium or large garden; front, side or back garden.
BALCONY/PORCH/TERRACE: Pots or containers to soften the space with greenery.
VEGETABLE: Veggies, fruits, raised beds, community gardens.
STORE FRONT: store or restaurant front beautified with window-boxes or tubs.
RULES
The garden must be in Somerville
The deadline for entries is July 14th
You may nominate your garden or that of friends, family or neighbors with their permission.
Contestants agree that Somerville Garden Club can take and use photos of the garden for promotional purposes.
Judges must be able to view the gardens between July 18th and July 28th.
Judges cannot judge a category in which they have entered a garden and cannot judge the garden of family, friends or neighbors.
TIMELINE
June 12th, Contest opens
July 14th, Deadline for entries
July 16th-July 28th, Judging period. Gardens will be judged on five criteria:

Overall design
Implementation of the design, plant choices, colors, composition
Creativity
Maintenance, plant health
Sustainability, friendliness to birds and bees

July 31st, Winners will be notified by email or telephone.
August 14th, Prizegiving! Somerville Garden Club monthly meeting; 7pm, TAB building on Holland Street.
PRIZES
1st prize: $75 gift certificate and 1-year membership of the Somerville Garden Club
2nd prize: $25 gift certificate and 1-year membership of the Somerville Garden Club
3rd prize: 1-year membership of the Somerville Garden Club
Photos of the winning gardens will be posted on the Somerville Garden Club Facebook page.
Thank you to our sponsors: Pemberton Farms, Ricky's, and Wilson Farms for their sponsorship of this event.